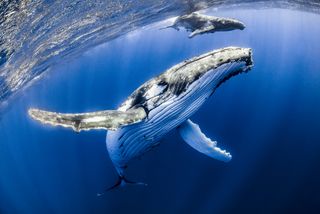 A humpback whale recently swallowed a Cape Cod lobster diver.
This is a highly unusual event, but one expert told Live Science that there are certain types of behaviors that could have led to the man being swallowed — such as diving too close to the whale's normal food.
Michael Packard was 45 feet (14 meters) deep in the coastal waters off Provincetown, Massachusetts, on Friday (June 11), when he was suddenly gulped inside the mouth of an enormous marine animal.
"All of a sudden, I felt this huge bump, and everything went dark," he told WBZ-TV News.
At first he thought he had been attacked by a shark, as great whites frequent the area, but he soon realized he couldn't feel any teeth.
"Then I realized, 'Oh my God, I'm in a whale's mouth … and he's trying to swallow me,'" Packard told WBZ-TV News. "And I thought to myself 'OK, this is it — I'm finally — I'm gonna die.'" Packard's thoughts turned to his wife and his two sons, ages 12 and 15.
He estimated that he remained trapped inside the mouth of the leviathan for 30 seconds, and he was still able to breathe through his scuba respirator. But then the whale, clearly keen to remove its unwelcome, and inedible, guest, surfaced, shook its head and spat him out.
https://www.livescience.com/fisherman-swallowed-by-humpback.html
One may reflect here about the unusual incident that occurred to Jonah-the prophet. Right?
Regards
OOO
https://wp.me/piVW-3dVhttps://wp.me/piVW-3p8https://wp.me/piVW-YZhttps://wp.me/piVW-3pBhttps://wp.me/piVW-rhttps://wp.me/piVW-3pJhttps://wp.me/piVW-3pJhttps://wp.me/piVW-3pWhttps://wp.me/piVW-3q2https://wp.me/piVW-3qmhttps://wp.me/piVW-3qqhttps://wp.me/piVW-3quhttps://wp.me/piVW-B0https://wp.me/piVW-uhttps://wp.me/piVW-pChttps://wp.me/piVW-3tshttps://wp.me/piVW-3tAhttps://wp.me/piVW-YZhttps://www.facebook.com/groups/1003905187051930/
Tags: "Humpback whale swallows lobster diver before spitting him out", Armageddon? – with its "Peaceful Version", Jonah-the Prophet